Holybrook Primary School - Inadequate to Outstanding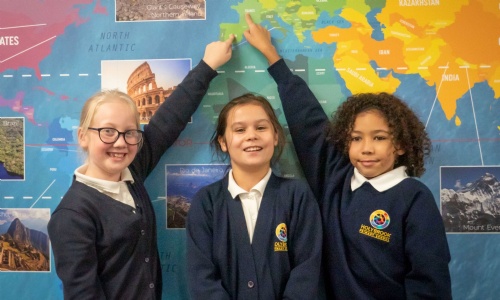 Holybrook Primary School in Bradford has achieved Ofsted's highest rating of Outstanding in all areas following a recent inspection on the 5th and 6th of April.
This incredible achievement is even more remarkable as the school was previously judged 'Inadequate' prior to joining Exceed Academies Trust. The rapid improvement from 'Inadequate' to 'Outstanding' in a single inspection cycle is incredibly rare under any Ofsted framework and is possibly unique nationally for a Primary school, under the current arrangements.
The school received a Directed Academy Order from the Department of Education and was sponsored by Exceed Academies Trust in December 2017. It has now been recognised for providing an environment which means that 'Pupils leave ready for the challenges ahead having benefitted from an exceptional education that develops them academically and personally.'
The glowing report said: 'Leaders are ambitious about what pupils will learn'. 'There is an absolute commitment that all pupils including those with additional needs, will access the wide range of opportunities provided. Where barriers exist, staff work relentlessly to remove them.'
It added 'Pupils are taught to be aware of their own emotions and feelings. They learn to notice the signs that they are not feeling a hundred per cent and are taught strategies to help them cope. Relationships in school are very positive. Pupils watch out for each other.'
'Staff work highly effectively to deliver a curriculum that helps pupils understand their place in the world as active citizens.'
Inspectors said that 'Leaders have carefully identified the key knowledge that they want pupils to know, and by when, in each subject. There is 'joined up thinking' about what pupils will learn from the moment they start in Nursery through to the end of Year 6. '
'Pupils are taught about the risks they face as they grow up, including online. They are clear about how to keep safe and how to respond if they ever feel at risk.' said the report.
Christabel Shepherd (Executive Head Teacher) and Chris Lloyd (Head of School) said "We are delighted that inspectors recognised the exceptional quality of education that each child at Holybrook experiences. This incredible outcome for our school and community is thanks to the tenacity, dedication, high expectations and hard work of pupils, staff, families, Governors, Trustees and the Exceed Academies Trust team. We are immensely proud of our pupils and grateful to everyone who has worked with us to develop Holybrook.
Duncan Jacques, CEO of Exceed Academies Trust, added 'We are thrilled that Holybrook Primary School has received the highest recognition available from their recent Ofsted Inspection. For a school to move from Inadequate to Outstanding in such a short time frame, and throughout a pandemic, is simply incredible.
We would like to thank the pupils for their positive attitudes and their engagement in the learning on offer here. We must say a massive thank you to all our parents for their fabulous support and for believing in a school which had previously been written off. We need to thank our Local Governors and Trustees for backing our ambitions for the school and, finally, I would like to thank all the staff for their hard work, determination, and willingness to go the extra mile to ensure the very best for the pupils at Holybrook Primary School. Together we Exceed'.
Roger Butterfield, Chair of the School's Local Advisory Board said, "It has been a pleasure and an honour to be involved with everyone at Holybrook during its recent journey. I am delighted with the Ofsted judgement which is a true reflection of the hard work of all the dedicated staff at the school. I would like to congratulate and thank all the staff, pupils, parents, everyone at Exceed and all our local community for their help and support in the last few years. Without that support and faith in the school we could not have achieved the Outstanding judgment.